The Wisdom of Al Swearengen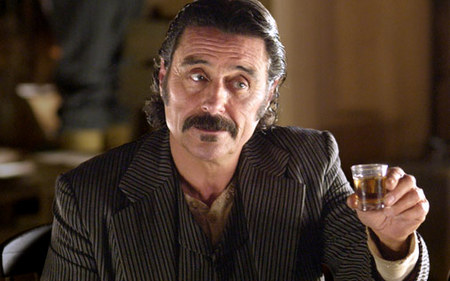 On HBO's superlative Deadwood, Al Swearengen (memorably played by actor Ian McShane) gets all the best lines…
In life you have to do a lot of things you don't fucking want to do. Many times, that's what the fuck life is… one vile fucking task after another.
If I bleat when I speak, it's because I've just been fleeced.
Here's my counter-offer to your counter-offer: go fuck yourself.
I wouldn't trust a man who wouldn't try to steal a little.
I'm declaring myself conductor of this meeting as I have the bribe sheet.
Announcing your plans is a good way to hear god laugh.
You want a donkey's attention, you bring a fucking pole down between his ears.
Dan, don't you agree that truth, if only a pinch, must season every falsehood, or else the palate fucking rebels?
How does Hearst hope to defeat me? Allied as I am with the imbecile, the contemptible, and the promiscuous fucking insane.
Over time, your quickness with a cocky rejoinder must have gotten you many punches in the face.
Dan Dority: I'm older, and I'm much less friendly to fuckin' change.
Al: Change ain't lookin' for friends. Change calls the tune we dance to.
And my all time favorite, a dialogue between Swearengen and newspaper editor A.W. Merrick (Jeffrey Jones), after Merrick's presses have been destroyed by local toughs upset by Merrick's publication of a notice that existing gold claims might be thrown out if Deadwood is annexed to the U.S. Swearengen's final line is a kind of mini-soliloquy that sums up his character perfectly:
Al: (Sits, lets out a sigh) Why ain't you up and running again?

Merrick: I'm in despair. The physical damage is repairable, but the psychic wound may be permanent.

Al: (After a pause.) You ever been beaten, Merrick?

Merrick: (Rolls his eyes) Once, when I thought I had the smallpox, Doc Cochran slapped me in the face —

(Al slaps him.)

Merrick: Ah! (He stares at Al, touching his cheek — he leans forward) Stop it, Al.

Al: Are you dead?

Merrick: Well, (touches cheek) I'm in pain, but no, I'm obviously not dead.

Al: And obviously you didn't fucking die when the Doc slapped you.

Merrick: No.

Al: So including last night, that's three fucking damage incidents that didn't kill you. Pain or damage don't end the world, or despair, or fuckin' beatings. The world ends when you're dead. Until then, you got more punishment in store. Stand it like a man — and give some back.
(Many thanks to HBO's episode guide, the Deadwood Transcripts site, and the quotes thread on Television Without Pity's Deadwood forum for archiving all Al's wisdom for posterity.)