"This Is Bob Costas. You're An Asshole"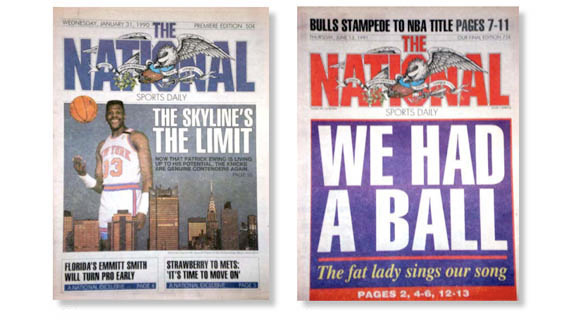 New-ish ESPN sports site Grantland has a great behind-the-scenes story on the rise and fall of The National Sports Daily, a wild attempt by a Mexican billionaire and an American publisher to build a new type of newspaper built around sports coverage that lasted for just 18 months in 1990 and 1991. The story is built as an oral history, told by the people who lived it.
It's an interesting read even if you don't care about sports, because it goes into lots of great detail about the operational challenges of starting a media organization right at the dawn of the computer age — a moment when technology seemed to open incredible new horizons, but which required you to deal with cranky 9600 baud modems and $2,000 fax machines to get there.
Plus, as a short guy myself, I cracked up at this anecdote about famously short (and famously touchy on the subject) sports journo Bob Costas:
David Granger (Executive Features Editor): I edited Norman [Chad]. He did a piece about Bob Costas, and every time he'd mention him he'd refer to him as "the 5-foot, 5-inch Bob Costas." NBC called complaining we'd gotten Costas' height wrong.

Norman Chad: I told the publicist, if I run this correction — The National misreported Bob Costas' height, he's 5-8, not 5-5″— at the end of the column, I don't think it looks good for Bob.

Granger: Every time Chad wrote about Costas in a column for The National after that he would talk about "Bob Costas, who was not 5-feet, 5-inches tall."

Chad: One morning my phone rang. I go, "Hello?" And I hear, "Norman Chad?" I go, "Yes." The voice goes, "This is Bob Costas. You're an asshole."