Against live-tweeting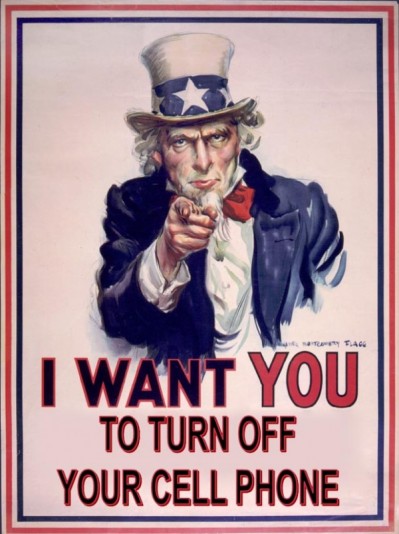 Here's something I was reminded of this morning when I checked in on Twitter and saw a stream of comments from the just-started Netroots Nation 2012 rolling in:
If you're in the audience at a session at Netroots, or at any conference, really, do a favor for both yourself and whoever's presenting to you and put away your damn gadgets, at least until the session is over.

I know you think you're adding value to the proceedings by "live tweeting" them or whatever. But you're not. All you're doing is subtracting value. You're hurting yourself, since you're going to get less out of the presentation when you split your attention between it and your blinking gizmo than you would if you engaged fully with the presenter and her message. And you're hurting the presenter, since the message you're sending to her is that you're not paying attention, which may lead her to screw up her presentation in an attempt to win your attention back.
(What? You thought they didn't notice you've never looked up from your screen? Any presenter worth his salt is constantly keeping an eye on the audience's interest level.)
I know you think that it's critical that you get your opinions on the presentation out to your legions of followers right this minute. But trust me, your followers can wait for your thoughts until the session is over; you're not Edward R. Murrow, and this is not the London Blitz. And by waiting a few minutes to hear the whole presentation, you can actually form a thoughtful opinion of its entire content, rather than just a knee-jerk reaction to whatever words the presenter just said.
There's only one thing worse than breathlessly tweeting to people who aren't in the session with you: breathlessly tweeting to people who are in the session with you. The polite term for this is "the backchannel," and it's always existed at conferences. In the past, though, backchannel discussions took place in the hallway after the session, not while the session was actually going on, and that makes a big difference. Think about it for a second: if you were having the same conversation out loud, right there in the room as someone's trying to teach you something, you'd be considered an irretrievable boor. You can't wait to have that conversation until after the session's over? It's that important?
This is why I get frustrated, when I make presentations, to hear people telling me about tweets from people in the audience — even glowing, positive ones. The whole reason I'm there is to try to engage with you, provoke you, fire up your mind; and that's something that requires a degree of mental intimacy between the two of us, intimacy that can only be achieved if we give each other our undivided attention for a few minutes. If I'm half-assing the presentation, phoning it in, sure, feel free to get out your iPad. But if I'm not — if I'm working hard up there to communicate something to you, as I generally am — show me the respect of at least meeting me halfway. Even if you're not convinced by what I'm saying, I'd rather have spirited, thoughtful criticism right there in the room; spirited, thoughtful criticism teaches me things, makes me a better presenter and sharper thinker. Passive-aggressive snarky tweets don't do any of that.
So next time you're sitting down in a conference session, do us both a favor. Put your devices away, at least for a little while. They won't spoil. And you might just learn something!