The tiresome dietary politics of Don't Starve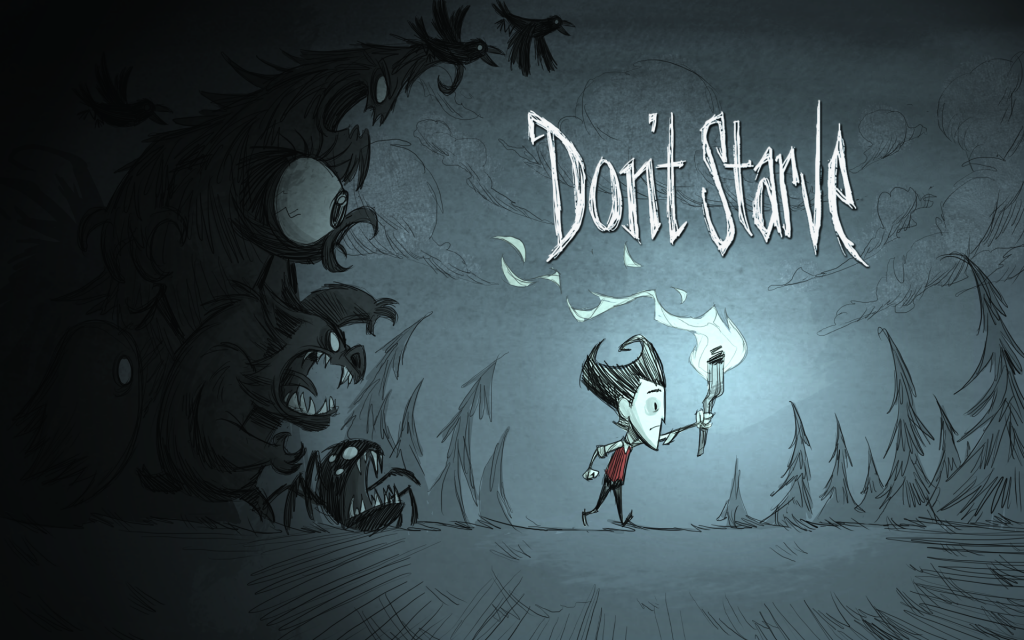 Lately I've been playing a very good indie game with an intriguingly direct name: Don't Starve.
The idea is simple: you play a character who wakes up one day in a sprawling, randomly-generated countryside. You have no map, no tools, and no food. Your challenge is to keep that character alive for as long as you can. This probably sounds pretty grim, but the mood is lightened by a playful, cartoony visual style which adds some whimsy.
As you might expect with a game called Don't Starve, figuring out how to obtain enough food to keep your character alive is a huge part of the gameplay. When you start all you can do is pick berries and seeds up off the ground, but as time goes on you learn how to make tools, which can be used to grow food, hunt, and cook.
If you've read my semi-satisfied review of Minecraft, another popular indie game, you'll know that my biggest gripe with that game was how little direction it gave you. Don't Starve feels like a reaction to that complaint; it has a lot of the good things Minecraft has (exploration, crafting, etc.), but the stronger emphasis on what I called in that piece "the survival game" makes it feel less muddled. All the other "games" are subsidiary to that one — you explore to find new sources of food; you craft to build things that give you access to a more nourishing diet. This makes Don't Starve more of a game and less of a toybox, which I like.
But while there is a lot to like about Don't Starve, there is one thing about it that I don't like: the game (or, more accurately, its makers) insist on injecting tedious dietary politics into the gameplay.
You probably know at least a few people who are vegetarians or vegans. (Maybe you are one yourself!) And of those, you probably know at least one who is evangelical on the subject; someone who's not just looking to fix their own diet, but to fix everyone else's diet, too. So when you're out with a bunch of people and one of them orders meat, the Veggie Evangelist starts a sermon.
Don't Starve is kind of like that person. It is an unrepentant Veggie Evangelist.
In a game about where the overriding objective is to not starve, you'd think any kind of edible food would be good. But Don't Starve feels very strongly that some foods (vegetables) are good, and others (meats) are bad. And it sets up the rules of its world to reward you if you think the same — and to punish you if you don't.
Consider. In Don't Starve, there are three measurements of your character's overall health and wellness. First is Hunger: how close your character is to starvation. Second is Health: his or her overall physical well-being. And third is Sanity: their mental health. These three measurements interact in many ways; for instance, eating a poisonous red mushroom might decrease your Hunger, which is good, but also decrease your Health, which is bad. A big part of the game is learning how to keep these three measurements in balance, since having any one of them tip over ends the game.
In this model, by Don't Starve's rules, vegetables have a lot to commend them. Gathering them generally costs nothing in any of the three measurements, and since they are abundant and can be farmed, they are easy to gather. They're generally safe to eat: almost all of them reduce your Hunger with no negative side effects; some also increase your Health as well. Picking up a veggie is a decision the game consistently rewards.
Meat, on the other hand, is a different matter entirely. Just the act of gathering meat comes with a significant cost — killing an animal eating meat reduces your Sanity (!). Beyond that, killing even the smallest animals can be a challenge; they fight back, damaging your Health, and it's not hard to get killed by even a spider or a frog if you're not careful. And if you're successful, you rapidly discover that some animals when killed don't yield plain old meat; they yield "monster meat," which knocks both your Health and your Sanity down again if you eat it. (Cooking the monster meat can reduce the damage, but not remove it entirely.)
The game's interface takes this theme even further: if you capture an animal with a trap, you can't kill it, you have to murder it. That's the label you have to click: "murder." Which is hard to read as anything other than a political statement.
It doesn't end there, though. See, it turns out that there's actually a fourth measurement the game is tracking behind the scenes, where you can't see it. That measurement is called "Naughtiness," and it tracks only one thing: how many "innocent" animals you have "murdered." Don't Starve considers any animal that is not actively aggressive towards you — every rabbit, every pig, every bird — to be "innocent," so killing any of them bumps up your Naughtiness score. And once that score gets high enough, the game summons a creature called "the Krampus." The Krampus' mission is to steal your possessions, which it goes about with great gusto. And it's very strong to boot, so if you attack it to try and keep it from running off with all the stuff you have laboriously gathered and crafted, it can easily kill you.
Putting all of these issues together quickly teaches the player that the "right" way to play the game is to play it as a vegetarian. Meat is difficult and dangerous; veggies are safe and easy. So unless you want to deal with a bunch of potentially character-killing complications, you stick with the veggies.
Now, my point here is not to make a claim one way or the other about the relative ethics of meat-eating versus vegetarianism/veganism. (Though to make my own biases clear, I will tell you that I personally eat meat.) It's to say that this all feels weirdly dissonant from the game's overall theme of survival.
When you're starving, you don't think much about whether food that appears before you is ethically sourced or not. Starving people will eat just about anything — even their dead comrades. And we don't judge them negatively for doing so. We put a high enough value on human life that if keeping yourself alive requires you to eat things that otherwise would shock the conscience, we're not going to second-guess you if you eat them. Survival is the first rule of life.
But here we have a game about survival, a game called Don't Starve, that cares about more than whether or not you are able to keep yourself from starving. It cares about whether or not you can keep yourself from starving in a way it finds morally acceptable. And if you try to take another path to survival than the one the developers want you to, it will throw huge roadblocks in your way to stop you. And we're not even talking about extreme things like cannibalism here — we're talking about killing a rabbit for its meat.
I dunno about you, but if I was trapped and starving in an unfamiliar land, and a rabbit hopped by, I would kill that rabbit and eat it with no moral or ethical compunctions whatsoever, because I want to stay alive. And I bet you would, too, if the alternative was privation and death.
It can be compelling to draw lines and cast judgments about which foods are moral and which aren't from the comfort of a home with a fully stocked refrigerator. These arguments tend to be less compelling when you're lost and starving.
Which seems like a strange thing for a game called Don't Starve to not understand.
UPDATE (June 9): A lively discussion of this post is happening over at Rock, Paper, Shotgun; several RPS readers pointed out that you don't lose Sanity if you kill an animal, only if you eat its meat. I've corrected the paragraph above that contained the error.