Book review: "The Boys of Sheriff Street"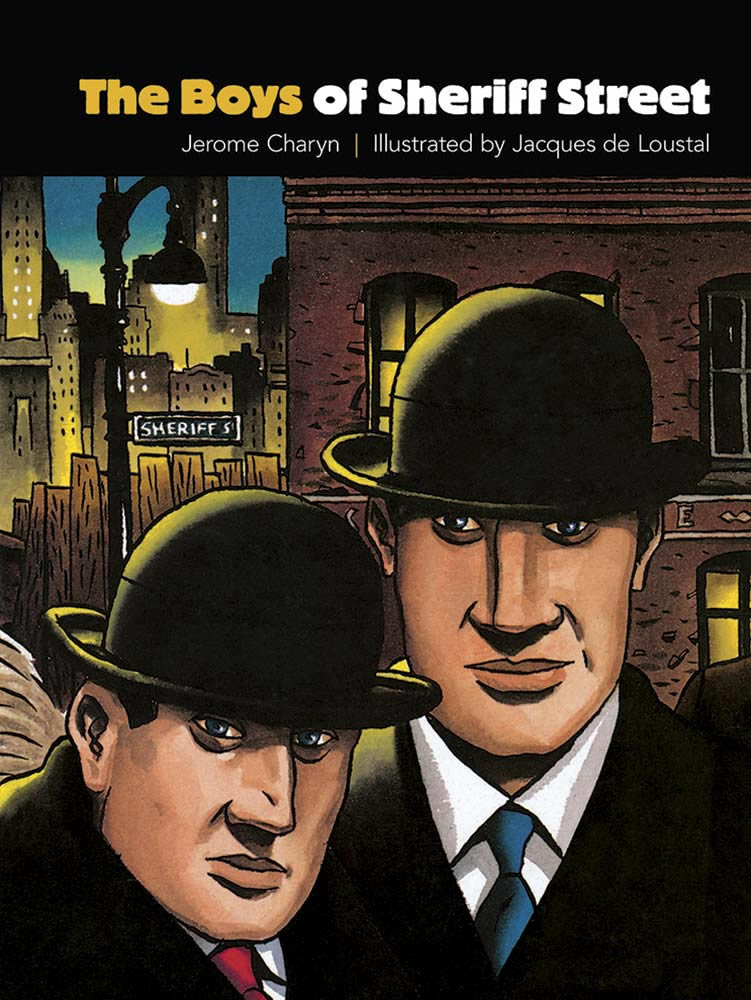 Disclosure: I was provided a free review copy of this book by the publisher via NetGalley.
The Boys of Sheriff Street is a moody, atmospheric new graphic novel by American writer Jerome Charyn and French artist Jacques de Loustal.
It tells the story of twin brothers and partners-in-crime living in the 1930s ghettos of New York City's Lower East Side. Taciturn, hunchbacked Max Adamov is the brains of the operation. Together with his brother Morris, he runs the Sheriff Street gang from a perch in Mendel's Cafe. Their partnership is successful and lucrative, until the night when Morris appears at the cafe with a glamorous woman named Ida Chance on his arm. Blonde and beautiful, Ida introduces an unstable element into the brothers' relationship —  an element that sends them into a spiral of violence and betrayal.
The Boys of Sheriff Street is a fascinating little work of art. Charyn's story is spare and simple. There's not a lot of introspection here, just action and reaction. These clean lines, combined with the story's gloomy mediation on elemental human flaws like jealousy and hubris, give it the feeling of classical tragedy.
That feeling is reinforced by de Loustal's illustrations, which are striking and memorable. Building each panel around strong lines and muted colors, de Loustal grounds Charyn's characters in a grim, grimy New York underworld. Crowding characters together in close, dingy-walled rooms, de Loustal vividly imagines the squalid world they're willing to fight so bitterly to rule. Even the gorgeous Ida Chance, who floats into the boys' lives like a menacing iceberg, comes to us through his pen as less an angel than a sort of tarnished statuette, all brass in a world without polish. Channeling some of the same spirit as the works of artists like Diego Rivera and Edward Hopper, the illustrations of The Boys of Sheriff Street will linger with you long after you put the book down.
At just 80 pages in paperback, this isn't a long book, so readers looking to bite into an epic story will come away disappointed. But it will definitely leave you wanting more, especially of the art of de Loustal, whose other works I'm looking forward to exploring in the future. So if you like noir-ish crime stories, or just want to see some images that are worth lingering over, The Boys of Sheriff Street is definitely worth your time.
---
"The Boys of Sheriff Street," by Jerome Charyn with illustrations by Jacques de Loustal. Published July 20, 2016 by Dover Publications.